Post by Pure Miriam on Feb 15, 2019 16:08:08 GMT -6
Here i am, with my traditional (??) thread with questions for you all to answer. Bloodstained: Ritual of the Night will be released this summer, 2019. The game has new information and footage, with three videos (see below) filled to the top with new content. Of course, that DEMANDS questions and answers.
Release Window Announce Trailer
Japanese Nintendo Direct Video
Ok, now that you watched the three videos (if you didn't before), here come the QUESTIONS (if you need help with some questions, take a look at the pictures i took on this
THREAD
)
---
1)
We can see a Teleport Room at the first video. Do you expect them to work exactly like other Igavanias? Would you like to see some kind of new feature to the teleports? Do you think Bloodstained needs Tickets / cards, that existed in Castlevanias, where you could directly teleport back to shop / last save you used, things like that?
2)
There is some kind of carriage, with a man riding it. What do you think that is? Some kind of helper (like Ferryman from Symphony of the Night)? Maybe a weird Shard that let you summon him at some specific places? An enemy that must be beaten and can be used somehow?
3)
At the first video, we can see Miriam using a blue shining sword with a beautiful and long special effect. A Sword of Light that resembles Vajra (SOTN). At the other video, there is a Green Fast Sword being used, that looks like Crissaegrim. Do you think they ARE these swords, or "similar substitutes"?
4)
There is a Laser Shard shown at a video that Miriam needs to aim it at reflectors to create a trajectory and them teleport using the laser itself. Some mentioned that this power resembles a certain Boss of Curse of the Moon that has the same maneuver (Bathin). Do you believe that is a Shard dropped by that Boss? Maybe by another creature?
5)
At the videos, we can see several new regions. A white marble-like area, a lava-filled cavern, something that looks like a Clock Tower, a Golden area with stairs...but absolutely no sign of a water area. Do you think Bloodstained will have a water area? (Where Miriam needs to swim or find an ability to go underwater) or maybe Bloodstained will not have a water area?
6)
Some videos show backer portraits moving and acting as if they are enemies to be beaten. What do you think of that idea? Did you like it or you think it is too weird and break the immersion?
7)
Double Jump was shown. When Miriam uses it, she grews some kind of colored fairy wings / crystals on her back. Did you like that effect or would you expect something else?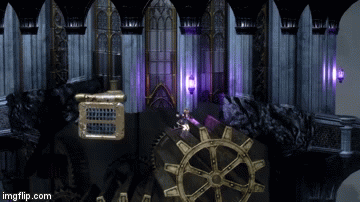 8)
Valefor, Valac and Andrealphus are bosses from Curse of the Moon that showed up on the videos. What do you think of the design of each one in Bloodstained? Did you like it? (If you don't know them at their Curse of the Moon looks, see it
HERE
)
9)
At the first video, we can see the large white head of a dog and a black cat that looks blind from one eye (and looks like a cat from a backer portrait in 2018 Demo). Do you think these are just bigger demns or bosses, or they are animals from backers, from the campaign that promised to turn backer pets into monsters in-game? What do you think of them?
10)
Gremory was redesigned a bit and gained a purpleish color at her upper part. Did you like it?
11)
What are your thoughts about "Invert!" Shard / Ability, that lets Miriam invert the whole castle anywhere? (aside from areas that doesn't have a celling, as already stated).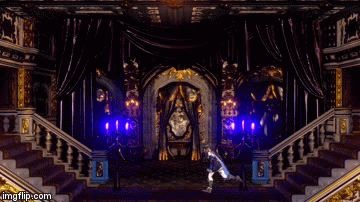 12)
One of the videos revealed who is the "Mysterious Man" that is man that looks like a dark being. What do you think he is? (A Shardbinder, a vampire, a demon?) and what do you think his role will be at the game?
13)
It was revealed that the game will have techniques, such as combos, and they can be mastered. What do you think of that feature?
14)
Miriam's customization was revealed. Miriam's hair type and color, her clothes colors and skin color can be changed, alongside boots and head gear that shows up on her body and different scarves. Did you like these options? Did you expected more?
15)
We can see a Pink Fairy Familiar at a certain video. In a distant past, the dev team said that, from the fan voting on Familiars on kickstarter, the Armor Familiar won and would be put in the game, and the others would have "substitutes". There was the option for a fairy at that time. Do you think this Pink Fairy is the substitute to that fairy? You think all other familiars will have substitutes? Including Goofball? Or maybe Goofball will show up simply because it became a huge thing for fans and backers alike?
16)
Anything else you would like to share?
---
that's all folks!