Official Forums
Nezuto

Master Alchemist

Welcome to my world....

Posts: 661


Post by Nezuto on Aug 22, 2015 2:40:49 GMT -6

Silence can often be as loud as any call. Don't perceive with your eyes, See with your Mind.
Shoutbox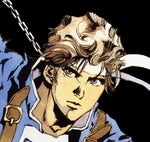 RichterB
:
All right, I'm expecting to try to post my fan art piece before the end of the day 7/15 (CST). Hopefully it'll add to the latest rush of Bloodstained good feelings coming off the mode timeline news and CotM2 launch.

Jul 15, 2020 0:53:16 GMT -6

*