Post by Enkeria on Jul 9, 2017 12:31:18 GMT -6
Greetings,
About Morte, why we can see this creature becoming the main weak enemy in Bloodstained, and perhaps if there will be a franchise, the first villain for the player to be introduced into the combat-system, platform strategies and the "feel" of the Igavania you are about to explore.
Introduction
My theory: "Morte is a symbiosis, a creature that feast upon flesh and living creatures. There is no need for bones for a structure to hold it up. It's sluggish movement and attack pattern makes up for the count surrounding you in your travels. The creature seems to be sleeping until something living comes close enough for it to sense a pulse. It is unclear what Morte's roll is in hell, but according to the ferrymen across many rivers of lost souls it may very well be a forgotten one, who's essence have been tainted and now seek a way out of quench its thirst for blood. They are seen in drawings that swirl in the depths as the boats take lost souls across the realm of infernal regions, with the lake Styx being the most vivid of movements and feared even by the bravest of warrior. No coin, no boat and no passage. Morte will grab you and pull you in, down, under, into eternal darkness."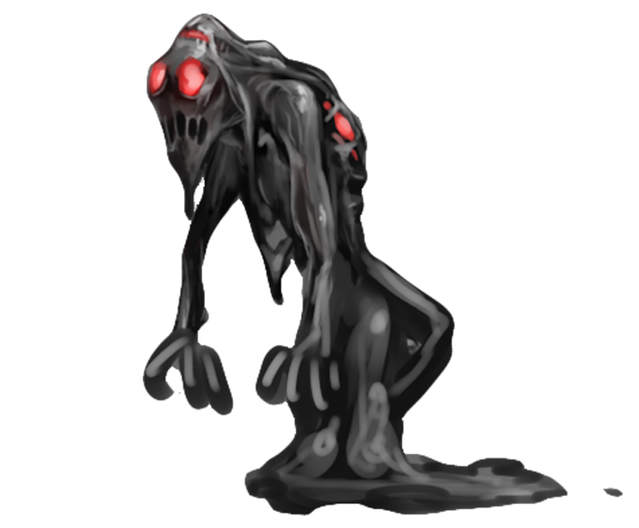 Morte, Zombies & Skeletons (and Mudmen)
As a design, Morte is quite brilliant, since the black goo can form like magical fluid, it should in theory be a vicious enemy if combined with smarter Morte's.
In Castlevania we had zombies, ghouls and mudmen, rising from the ground (or sand), and at that very moment, they were a threat. They came in numbers and moved in different pace depending on which game you played. They went from one direction to another, with no real attack, just being a living object that took away your health by touch, and a knockback applied.
Skeletons came into the play a bit later, being more agile and smarter. They threw things and they could even jump around and aim. The later incarnations of Castlevania introduced giant skulls, crawling ribcage of beasts using own limbs as weapons. There were cursed skeletons that threw spicy curry at you if they saw you on their way to the master. Intelligence was a thing and the bones had more humanity in them than the zombies and mudmen.
Can Morte live up to the old monsters behavior?
Imagine Morte being a living matter, with combinations OVER skeletons, OVER zombies / ghouls and OVER mudmen, they might be incarnate as something purely new. Imagine a boss that actually control Morte, being a type of brain that use them as limbs. Even though it seems that crystals are inside of Morte, small fragments, what if these shards was bigger, stronger.. badder? The reason I believe Morte is a brilliant monster is the endless possibility that it can take both the form, and the behavior of older enemies. While staying true to the new Bloodstained concept, they can very well be the next generation of Zombies and Skeletons.
Nothing says that we can't have all three in the game, but as it seems. Morte is one enemy that can replace them if needed.
Trivias: Compare to the Zombies that hurt you the moment they are animated, Morte are easier on you, they will not attack until they can see you, plenty of time to move out of the way before engage in battle. And if you watch closely, the Morte goes backwards, having the chin straight up, in a smiling effort to kill you.
Image from:
lezisell.deviantart.com/art/Bloodstained-Ritual-of-the-Night-Enemies-XPS-657107359
Game Features with Morte
Boss battle: A boss throws them at you, once boss is defeated (or so you think) the morte combines to show the true boss.
Morte Creatures: If Morte can take on the shape of a man, can it take a shape of other creatures? I remember the
Black Panther
in Symphony of the Night had a similar treat.
Tiers of Morte: What happens if bigger and stronger ones combine their strenght? What happens if these giants have different shards in them? What if they have stronger shards? Will they move faster? Will they submerge into the floor or ceiling and reappear behind you fast?
Sub-categories of Morte: Acidspitters. Crawlers. Jawbreakers. Nightmare. Possessed Mannequins. Flying. Explosive Ones. Think about the possibilities! Essence is still Morte, but the design an animations different.