Post by Pure Miriam on Oct 25, 2018 2:21:18 GMT -6
It has been quite a long time since i last posted anything. Also, the forum itself, mostly due to lack of news, has been a bit without discussion lately. I had a fun (i think) idea for a thread, so i thought on creating it.
In March 2014, Koji Igarashi, Castlevania producer from 2001 to 2010, opted to leave Konami, mostly due to differences in the directions between him and the company. Bloodstained: Ritual of the Night was conceived as his new game and it had several ideas prior to what became. From many interviews over the years, IGA talked about what he wanted to do with the game, how it changed and such. What i'm going to talk here is exactly this: What Bloodstained was or could have been, compared to how it ended up being as of now. All the information from this thread is based on interviews between 2014 to 2018 from IGA himself and other members of his team, to several different sites and media. I can't search for everything now and i may have forgotten one thing or two, but here goes:
AN ADVENTURE AROUND THE WORLD / A CASTLE EXPLORING GAME

---
What could have been:
Bloodstained was conceived as a sidescroller exploring adventure game where the main character would travel around the world at several different scenarios and landmarks, fightning against monsters and evil beings. That first concept, according to IGA, was made to make it easier to pitch the game for developers, because such model would make it easier to create DLCs and expandable content. The budget was modest and IGA's reputation helped, but even so, after offering the concept to more than 20 developers, none of them wanted to fund.
What it is:
the game changed to a Igavania castle exploration game, very similar to Castlevania series, after IGA and Ben Judd (Digital Development Manager) decided to try Kickstarter, with the developers accepting to try that route if people would donate enough to show interest on the game. IGA considered it would be easier to raise funds on Kickstarter if the game was similar to his older games.
A MALE LEAD / A GOTHIC LOLITA FEMALE LEAD / A STRONG DETERMINED FEMALE LEAD

---
What could have been:
Bloodstained was going to have a male main character. Very little is known about how such character would be, but the game's plot and everything was focused around that.
What it is:
IGA said it that they changed the main character's gender from male to female, for two reasons. The main one was in order to please western market. He said that, by following what is happening nowadays at United States and Europe, where games and media are focusing on female leads, he thought that could be a good idea to make the game easier to catch outside Japan.
The second reasons was due to his experience on his past games. Fans really wanted, for a long time, a female lead and thus he created Shanoa on Order of Ecclesia. She was so well received that he thought he could hit the jackpot by trying to do more or less the same thing.
At first, Miriam was designed as a Cute / Dark / Gothic Lolita girl but that quickly changed to a more warrior / determined character that we known now, mostly due to the same reasons.
SUPERNATURAL / ENGINEERED HUMANS
---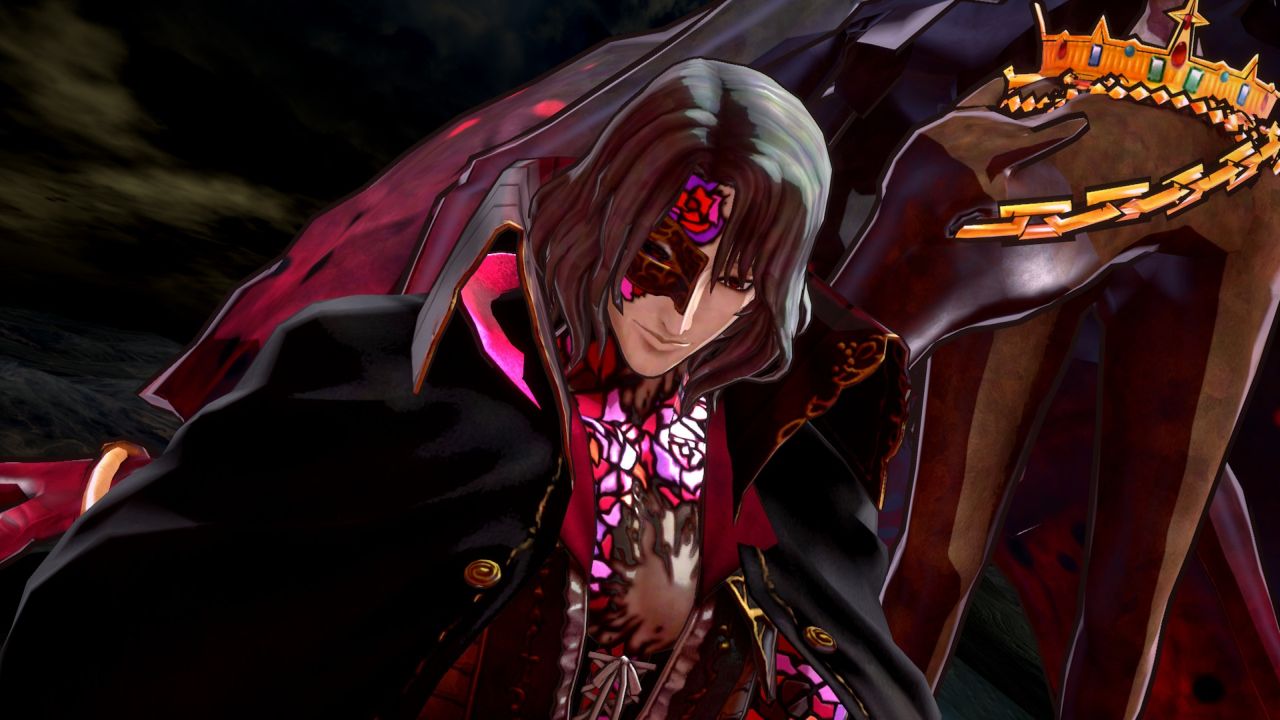 What could have been:
details about this is REALLY sparse, but here and there, IGA mentioned, few times, that, from the start, he wanted the main character to be able to use magic. Since the beginning, the idea to "absorb powers from enemies to use them" was going to be used, because he considers it the best magic system his team created on his old days, but why the character can use magic was created later on. He just knew it was going to be something supernatural.
What it is:
Miriam and Gebel are "engineered humans" as IGA said it himself. Normal humans that suffered experiments / rituals to give them magical powers for a specific purpose. He said that the idea to use engineered humans was something he wanted to do before, even at his old games, but he wasn't able to do it until now.
MIRIAM DESIGN
---
What could have been:
Miriam design was a bit different. Her rose on her back was more noticeable and extends outward from her body. Her left shoulder was completely naked and she had a more slender body.
What it is:
Miriam's design changed. Her rose changed from a physical extent of her body to a more "tatoo" like mark, because it was clipping with stuff you can equip her. her left shoulder gained a cloth pad to put a double scarf on her design, to make her easier to be seen on the screen when moving around and also to give her a piece of equipment whose change can be seen on the screen (like Alucard's cape). Also, her body changed proportions, she became a bit "thicker" and more big breasted to show her crystal marks (specially the rose on her breast and the crystalized pieces of her skin on her legs). That was also made to make her easier to be seen on screen.
BODY PARTS DROPS / COMMON DROPS

---
What could have been:
IGA said he wanted enemies to drop items based on body parts. So, each enemy would have four drops, based on their bodies (head, arms, legs and body).
What it is:
that was completely dropped and the game uses a common drop system now.
ALCHEMY TO UNLOCK POWERS / ALCHEMY TO UPGRADE POWERS
---
What could have been:
the very first concept of what is known as Shardbinder system, was going to have Miriam absorbing Shards and them taking them to someone to unlock their powers by alchemy, so she would be able to use them.
What it is:
that idea was dropped because IGA considered it would be to "bothersome" for the player to pick up a new power without being able to use it right away. Instead, they created a system where shards can be upgraded by alchemy.
FIVE SHARDS / SIX SHARDS

---


What could have been:
Bloodstained originally had five types of shards (Trigger, Effective, Directional, Enchant and Familiar), as seen at the screen of the first demo.
What it is:
IGA was asked if Miriam's abilities would come from shards and other things (such as relics, like Castlevania games) and IGA said that he wanted to tie most of her powers to shards for plot reasons. A sixth type of shards was created, the "Skill Shard", to ammend for powers such as Double Jump and such.
GHOST / AMY / VEPAR REDESIGN

---
What could have been:
The first demo had an enemy called "Amy", one of the Goetia monsters (that IGA wants to use all of them). Also, Vepar, the demo boss, was colorful and had huge breasts.
What it is:
Amy was changed name to "Ghost", probably to use Amy name for a meaner demon. Vepar was completely redesigned to make it looks more menacing and it's breasts was reduced.
BLOODSTAINED PREQUEL / BLOODSTAINED SPIN-OFF
---
What could have been:
Bloodstained: Curse of the Moon was going to be a prequel game, explaining what happened to the world ten years ago, while Miriam was in a slumber and Gebel was wreacking havoc by summoning demons and his demonic castle. Several people guessed the game was going to star Zangetsu, showing off his battle against demons during that time.
What it is:
the game became a spin-off, mostly so IGA could use four characters and make the game closer to Castlevania III. Curse of the Moon plot isn't canon, but the game still has some myterious ties to the main game, such as how important Gremory is.
---
That's all folks!